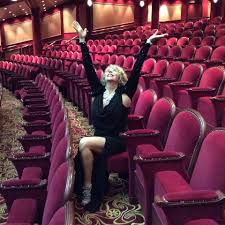 Biography
---
Clarolyn Maier began her musical career at the age of three singing and playing the autoharp in her father's church in Lake Oswego, Oregon. Her mother and two aunts recorded gospel music and toured throughout the USA as The Targartt Trio.
Exposed to music at a young age, Clarolyn soon began studies on violin,piano,trombone,voice,musical theatre,dance, jazz studies and the classical harp. Active in local talent pageants winning Jr. Miss Lake Oswego, Oregon, Miss Portland, Oregon/Talent Award and later Miss Los Angeles/ Talent award., Clarolyn received several scholarships including the Carol Burnett Musical Comedy Award and The Gil Rodin Pop Music Scholarship at UCLA and soon after, was written up in The Hollywood Reporter as an outstanding performer. She attended USC's School of Theatrical Arts and UCLA's Dept of Music and obtained a BA in Music/Classical Harp/Voice and Musical Theatre.\par
Clarolyn has toured through out the USA, Europe, Asia and the Caribbean as a vocalist,pianist,Harpist, recording artist ,broadway performer and producer sharing her talent at many Jazz festivals, music venues, corporate events, special events and more. (New Orleans Jazz and Heritage Festival, St Vincent Jazz festival, Barbados Jazz Festival,St Vincent Jazz Festival, Ottawa Jazz Festival, Tokyo's Orchard Hall, Nuclear World Summit, The Hague, Netherlands,performed for many diplomats, ambassadors and political leaders at the famed Kurhaus in The Hague, Netherlands. Clarolyn has played five star hotels and cruiselines globally,cabaret venues in LA , New York and through out the world. She performed for Julie Andrews for the premeire of the film, "The Princess Diaries" and won the editor's pick for entertainer of the year in Gramercy Park, New York at the Dutch Treat Club , NYC and was invited to perform for NYC Cabaret convention at Don't Tell Mama by The Mabel Mercer Foundation. She has opened for jazz great, Diane Shure, Colin Haye of Men at Work, smooth jazz star, Tom Grant and more. She performed "We Are the World" at The American Music Awards , played the famed off broadway show , "The Fantastick's" at The Egyptian Arena Theatre in Hollywood, performed in Arthur Miller's, "The Price" in Hollywood along side local celebrated talent and many more theatrical productions.
Studying the art of songwriting with two songwriting gurus, Nic Venet (Bobby Darin) and Harriet Schock(The Secret Garden/Film) Clarolyn began to produce her own albums and receive admirable reviews national publications. (Time out New York, Daily Variety, LA JAZZ Scene, BILLBOARD and more)
While studying with broadway /opera coach and director,Calvin Remsberg (CATS /the Original production on Broadway,Sweeney Todd w/ Angela Landsbury,Phantom w/Sarah Brightman/ directed Sweeny Todd at The Music Center w/ Stephen Sondheim) Calvin directed Clarolyn's one woman show at the Hollywood Cinegrill in LA for her CD release concert (SESSIONS)and suggested she audution for Dave Clemmons Casting in LA.
She landed the starring role of the Tony Nominated Broadway Show, "SWING!" touring North America and Japan garnering admirable reviews nation wide playing performing arts centers and theatres internationally.
She continues to perform worldwide as a headliner,recording artist, singer, pianist, and harpist. Her CD's, "SESSIONS"(Pick of the week in Time Out New York) , "BLUE EYES .. My Favorite Sinatra" (Endorsed by Frank Sinatra Jr.), "From Amsterdam to New Orleans", "Love Letters" and several singles such as "Lean On Me", "Knocking On Heaven's Door","How Was I to Know" from the Broadway show "TORCH", Sting's "FRAGILE"(#9 on the Reverb Nation World Music Charts) and Frank Wildhorn's " When I look at You". Her recordings have garnered great reviews nation wide. She was featured on Josh Groban's, "You Raise Me Up" music video , performed on Entertainment Tonight at The Beverly Hills Hotel for a special event and played her harp at the playboy mansion for the TV series"Party of Five" as well as many other suprprise appearances such as the music video for the film "Quest for Camelot with Steve Perry singing "I Stand Alone" for Warner Brothers and more…
Her new recording project, "Vintage Pop Music Box" brings the charm of popular contemporary songs to a cool vintage pop/jazz feel. And her other new project entitled, "TORCH" will bring present passion and reflection through love songs original and specially hand picked covers as a producer, vocalist, writer, pianist and harpist.
While performing on Bourbon Street in New Orleans, Clarolyn was featured on the BBC documentary peforming "Imagine" on John Lennon's upright Steinway for a peace tour organized by Julian Lennon and George Michael touring for peace throughout the USA. The famed piano toured to places of tragedy and began it's tour New York City where lennon was shot.(Lennonpiano.com) Her work with African Peace Activist/Ambassedor and Recording Artist, Obi Phrase whom she met performing in the Hague, Netherlands with President Ernest Bai Koroma /Sierra Leone , West Africa presents two singles' "Lean On Me" and 'Knocking On Heaven's Door" recorded in Capetown, South Africa for the causes of the Orphans of Ebola, their schools in Sierra Leone, West Africa and the fight against gun violence worldwide. \par
Clarolyn continues to perform internationally on land and sea.
Her one woman show, book and podcast, "The Singer and the Suitcase" shares amazing and inspirational travel stories, songs and special guest interviews internationally reflecting on life, travel, music and magic!
---
---
---
Buy My Album keyboard_arrow_down
---